ANTD.VN - As part of a series of activities celebrating the 200th anniversary of the death of the great national poet Nguyen Du and celebrating Vietnamese Women's Day October 20th , on October 18th ,19th ,20th , the Vietnam National  Puppetry Theater will perform the play "The fate of Kieu" at the Hong Ha Theater, Duong Thanh, Hanoi.
It is known that the show "The fate of Kieu" based on the classic work "Story of Kieu" by the great poet Nguyen Du, was transformed into a puppet theater full of breakthrough, creativity and experimentation under the skillful direction of the director - People's Artist Nguyen Tien Dung.
The show won many high awards at the 2019 International Experimental Theater Festival such as the Gold Medal for Outstanding Performance, Outstanding Directing Award, Outstanding Visual Artist Award, 2 Golds for Outstanding Actor, 5 Silvers for the actors in the play.
"The fate of the Kieu" re-exported from Vietnam Women's Day 20/10 photo 1.
The show portrays the personalities of each character such as Thuy Kieu, Ma Giam Sinh, Tu Ba, Thuc Sinh, Tu Hai ... differently. Director Nguyen Tien Dung choreographed according to the language of the staging, but did not follow the chronological order of the Story of Kieu. In particular, the director chooses a few culminating events in Thuy Kieu's life. From the slanderous price of the silk seller, Vuong Ong's family fell into a miserable situation. Thuy Kieu had to fall twice in a brothel, twice as a servant, and hardship for 15 years.
In addition to the "nail (key)" characters, the play also fictions two more important characters, Nguyen Du (the character of the Pen puppet) and Dam Tien (the form of the Chinesse four-chord lute). This can be considered a very bright test of the dramatic structure – puppet. The transition scenes really bring a lot of emotions to the viewers.
Scenes are handled with pieces, engaging puppet shows, space, abstract and fanciful lighting combined with traditional music and contemporary dance, giving the audience the experience, the feeling is really impressive and unforgettable. In which, the tingling melodies have further depicted the fate of Kieu "three sunken seven floating".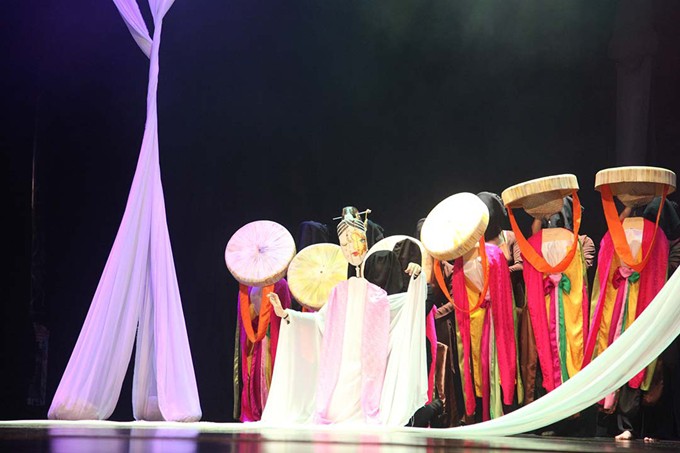 "The fate of the Kieu" comes back on the occasion of Vietnam Women's Day 20/10 photo 2.
 The performance reappeared, depicting each main character differently, artized in puppet language, making the characters in poetry closer and sharper on stage.
More especially, with traditional puppetry, it will be difficult to attract and convey all the content of the story, it is difficult for the actor to fully portray the unjust and painful mood of Kieu, as well as of the many other characters. However, the confused experimentation - who made it easier for viewers to understand, and easier to focus on with Kieu's fate.
The success of the puppet show The fate of Kieu opened a new approach to the puppet theater, creating a breakthrough in creativity.